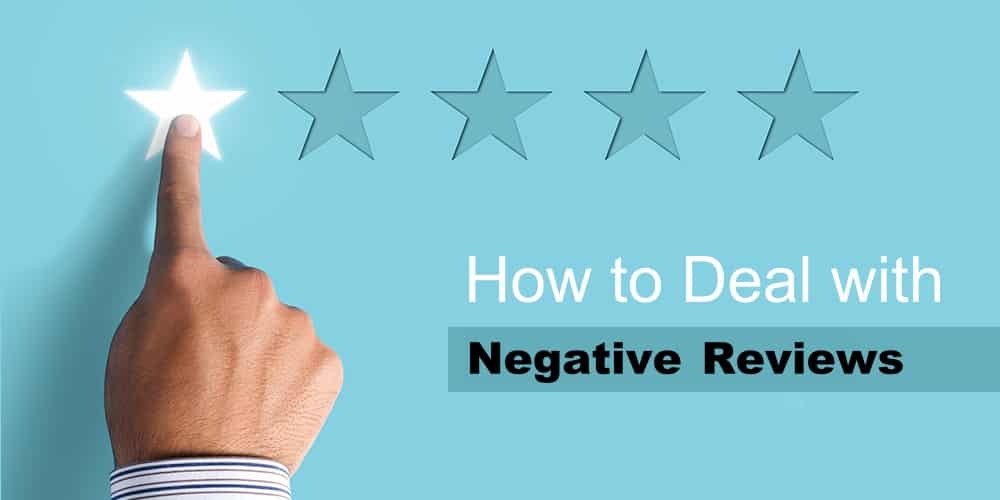 Anyone can share their opinion about your business online. Google Reviews, Facebook, Yelp and other websites serve as the review platforms for customers of home services like plumbers, heating & air conditioning, roofers, electricians, and landscapers. This level of transparency can be intimidating for businesses because an angry customer can do a lot of damage to your reputation with one bad review.
Most people check online reviews before hiring a home service provider. It has become a part of our culture and business owners must always be aware of what customers are saying about them, good or bad.
Ignoring bad reviews is not an option and it is best to reply to all public feedback about your business. But you must proceed with caution, whether you agree with what the customer says or not. Angrily replying to online reviews will make matters worse. Most websites where reviews appear will not let you remove negative reviews unless there are extreme circumstances.
How to Remove Negative Reviews
Yes, you should reply to reviews. However, sometimes there are negative reviews that go beyond just an unsatisfied customer. These reviews are often connected to a conflict of interest, use of derogatory language or completely unrelated rants.
Google and other review sites reserve the right to regulate inappropriate or unreliable content. Sometimes these extremely negative and malicious reviews violate a policy which could lead to immediate removal.
Conflict of interest
A review could be maliciously submitted by a competitor in an attempt to sabotage your business. Yelp's policy states that reviews should only come from unbiased consumers. Yelp will remove reviews that appear to be from competitors. Google claims to have a similar policy, but removals are rare. Facebook also has policies regarding conflict of interest, and removal of negative reviews is possible if the conflict can be proven.
In addition to competitors, review sites usually consider feedback from friends, family, and former employees as conflicts of interests. Any reviews you notice that are written by these individuals can be removed due to their close connection to the business. You or an official representative of your business can flag the review for inspection and the site will investigate.
Note: Never write your own business a review. It's not a good look, and some review sites will completely remove your business listing if you violate this policy.
Derogatory content
Negative reviews sometimes use explicit and derogatory language. This is never acceptable, even for Google! A few examples of derogatory content that Google prohibits include: harassment of individuals, harmful threats, and discrimination based on an identify (e.g. race, religion, disability).
If you ever see derogatory content in a review, flag it for removal and do not respond. Responding to this type of extremely hostile negative review could escalate the conflict. Let Google manage the situation.
Responding to Negative Reviews
While most review websites have policies to prevent those worst case scenarios, review platforms will not allow you to remove all negative reviews. If you could just remove all the bad reviews, the review site would not be providing accurate information to their users. So you'll need to handle those reviews in some other way.
Here are some ways to reply to negative reviews
1. Apologize
Negative reviews can be upsetting, but try not to let your pride get in the way of good customer service. Apologizing to the customer is essential in replying to negative reviews. Take time to fully understand why the customer feels the way they do.
Telling a customer they're wrong (even when they really are wrong) says that their feelings and business don't matter to you. This can further enrage a customer, which can be dangerous if they have a big following on social media platforms. Sometimes a simple apology is all people need.
2. Empathize
Mistakes happen because we're all human. Some consumers are quick to act on emotions and let their feelings influence an online review.
Try not to take negative reviews personally. Put yourself in the customer's shoes and think about how you would behave in a similar situation. This can help you empathize with a customer's feelings and respond appropriately.
3. Don't Argue
Avoid the temptation to get into "attack mode" by arguing online. This will not help your company's image and will make prospective customers think twice before hiring you. Do your best to remain calm, try to understand where they are coming from, and see what you can do to resolve the situation.
4. Offer Further Support
Some reviews require more attention than a simple apology. In your reply, include a request to contact the customer to resolve the issue, like, "Please call us at (800) 705-6045 so we can make this right,"  This can actually turn a bad review into a good impression because it shows your willingness to help.
5. Take Action
When acknowledging the problem and apologizing don't work, try making an offer. Showing the customer you are willing to take a financial hit to solve their problem can go a long way. A discount on future services, or a replacement for a failed product or part may be enough to repair the relationship with the customer – or at least get them to change their rating of your business.
6. Say "Thank you"
Thank your reviewers – even the negative ones. This will validate your customer's feelings and opens the door to negotiating a solution to the dispute.
7. Status Updates
Some negative reviews require ongoing private communication. While you and the customer know what's happening people reading your reviews do not. Including an update on each negative review with a note when it is resolve shows that you took action.
Tips for Replying to Good Reviews
Positive reviews need attention, too! Show your happy customers that you appreciate their feedback by thanking them. You can even use it as an opportunity to promote another service you offer or a customer rewards program.
Saying "thank you" may even encourage other satisfied customers to post more positive reviews about your company.
No matter what type of local home service you provide, online reviews can help you communicate with your customer better. Strategically responding to both positive and negative reviews can increase your company's image and success.
Reputation Management: How to Get More Positive Reviews
Sometimes there is nothing you can do to get rid of a negative review. The solution? Get more positive reviews!
For most businesses, that is easier said than done. If you have happy and satisfied customers, but very few reviews, ServicesPro can help. With the Review Gathering feature of ServicesPro, we can reach out to your customers and make it easy for them to provide the feedback your business needs.
ServicesPro also includes this awesome dashboard where you can easily respond to all of your reviews on Google, Facebook, and Yelp all in one place!
Contact us
here
, or call us at
(800) 705-6045
 to learn what ServicesPro can do for your business.